Clients:
MicaBeauty Cosmetics
Skills:
Photoshop, Illustrator, Magento, Photography, Printing
Project description

When I moved to LA I started working for E.L.I. Trading Inc., MicaBeauty cosmetics was their primary DBA.
I worked under the head designer, Ilan, and quickly learned to handle the wide variety of duties: catalogs, magazine ads, product designs and package designs, flyers, posters, huge banners (20 ft long) for trade shows and social media marketing. Started with the company's Facebook page.
Do you remember when Facebook had a vertical profile image on the side of the page? 😉 I created posts and added an app on Facebook which allowed shopping through Facebook.


Took on photography, and after retouching in Photoshop the item was ready to be used in newsletters (in this below example it's just to inform our retailers that we have plastic bags available) 😀

Our associates in Canada, called
Relaxus
, had a very unique design on the boxes of their Hair Curlers. We looked for an alternative manufacturer but Relaxus refused to share the artwork files for the box design. I took a picture of their box and rebuilt the artwork in Illustrator so we'll have a vector of our own
New boxes designs sent out to the new manufacturer along with product designs
Took pictures, retouched
Added hair straighteners to that line and then price lists, posts
And a mini catalog
We had plans for hair care products as well, the containers design was ready
Ilan left us to pursue his own business so I quickly learned Magento to keep the company's site maintained and keep the online orders rolling in.
We used the economic version of Magento and it worked great for our needs. Had 3 shipping methods (USPS, UPS or FedEx), 2 payment options (Credit card or PayPal). Each product had several images and color choices in nice thumbnails, a landing page image slider, a newsletter registration form. Every few weeks we launched a promotion with coupon codes. I did some basic SEO (Search Engine Optimization) for each page and each product but the best SEO is from reviews which flowed in nicely too.

At MicaBeauty we mainly sold to retailers. The retailers, and we, owned carts/kiosks in large shopping centers and malls. When we opened a location, we were required to present to the mall a quick simulation of what our cart would look like.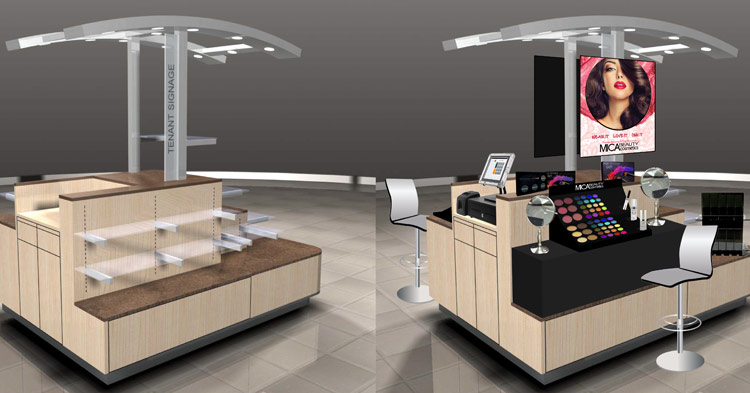 Later on we had a unique design for a kiosk makeup unit – a new look entirely, including a floor!
That kiosk even won us 3rd place of Best Kiosk Display in The Visual Victories Awards 2013 by Specialty Retail Magazine.
We sold that kiosk units all over the USA and sent our expert logistics manager/craftsman, Itamar, to put it together. He got so busy so we made a brief manual for a do-it-yourself kiosk – just a simple IKEA-like guide book for the client to be able to install the unit in his/her designated shopping center
We had many makeup displays and my favorite one was the Spa Display. We had it custom made and it had a feature which non of the other displays had – a replaceable banner at the corner. Allowing us and our retailers to promote an item, notify of a sale/discount or just simply greet for a specific holiday or occasion.
I filled the display with the products, photo shot it from many angles, retouched and designed a catalog for it
Van design
When we opened the first store I presented the mall a sketch of the way the front of the store would look like and the display of the signage
I helped the carpenters create the weaving shapes on the front of the store by splitting it into two layers and then they cut it with the CNC machine
Made a few new posters to decorate the store
And voila!
New items launched, more pictures
and Photoshop retouching
Some products were rushed, so before the container had been labeled it had to be photographed
and with Photoshop created the label and retouched
and market it
Tinted Lip Balm
Company opened a store in Brazil so I made this press release post on our site and in social media

Got many more examples to fill up this page, come back soon. 🙂